Articles by Initial Letters
Bevezetés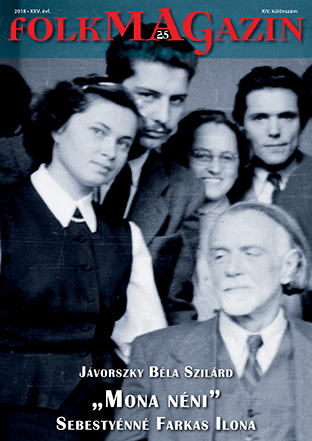 Issue:

2018/x

Starting page: 3
Author:

Jávorszky Béla Szilárd

=>
Introduction - translated:
One of Kodály Zoltán's last students, Sebestyénné Farkas Ilona, or "Mona néni" as she is called by her colleagues and friends, is an iconic figure in Hungarian music education. As a student at the Békés-Tarhos Singing and Music school at the end of the 1940s she became an ardent follower of the then new method of music education [the Kodály Method]. The first child of elementary school teacher parents in the village of Köröstarcsa in Eastern Hungary, she was chosen for the singing school made legendary by Gulyás György. On a visit to the singing school Kodály Zoltan noticed her talent and later supported her both on a professional and a personal level. In 1958 she got her diploma from the Hungarian Academy of Music. Then, following Kodály's recommendation and advice she spent 16 years forming the musical tastes of elementary school children at the Hunyadi János Singing and Music School in Budapest's 14th District. When legendary music teacher Szabó Helga left the school in 1975, Sebestyénné Farkas Ilona led the choirs there for five years. In the 1980s she accepted an invitation from her native region in Eastern Hungary and went to liven-up musical life in Békés County. When she moved back to Budapest in 1991, she left behind five prospering choirs. Since her retirement she has been active as a regular jury member at choir/chorus competitions and as professional director of the Békés-Tarhos School Chorus Festival. Since 2006 she has been director of a choir made up of her former students called Hunyadi 'Véndiák' Chorus. Last but definitely not least, she is also mother of Kossúth Award winning folk singer Sebestyén Márta and grandmother of eight grandsons.
"Only happy children can make happy adults, and a happy country can only be made up of happy adults". This much-quoted thought expressed by Kodály Zoltán in 1956, could be also be the motto for Mona néni who [at the time of this publication] was entering her 84th year, and celebrating 60 years of work in her profession. As she often emphasizes, the first chorus experiences of some of her first elementary school students are what brought them back to her fifty years later to sing in the Hunyádi Véndiák Chorus she directs. What gives this much loved and well-respected music educator and choir director the greatest joy - even more so than the numerous awards and honorary citizenships she has accumulated over the past ten years – is that her former students still want to work with her and be in her chorus. Though many of her former students didn't go on to become musicians, they have said that her singing classes left a lasting impression on their lives.