Articles by Initial Letters
Élünk, vagyunk – itt, a határon innen...
Országos Hagyományőrző Találkozó, Tura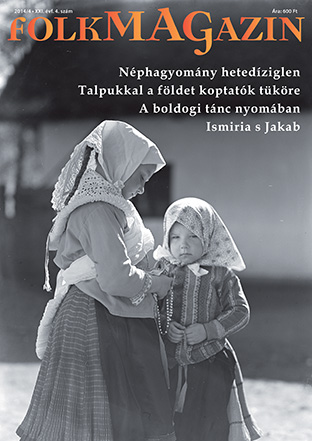 Report on activities of the Muharay Folkarts Association 2013–2014. The Muharay Association is an umbrella organization that supports groups of local performers dedicated to preserving and performing local folk dance and music traditions. The association organizes events, meetings, festivals and workshops for these tradition preserving groups from villages and towns all over Hungary, throughout the year. In the past year workshops were hosted for directors and future directors of these groups examining the dance material of a selected area, folklore, sociology, methodology, staging (dramaturgy) and direction. Festivals Muharay has organized so far this year with performances by these groups have been: a men's dance competition in April in Isaszeg, May Dance Festival in Pécs, in June there was a juried festival of tradition preserving groups in Tura and at the Kapolcs Arts Festival at the end of July. By Antal László.