Articles by Initial Letters
Savanyúlé, galuska, édeslaska...
Fejezetek a moldvai magyarok étkezési szokásaiból – I. rész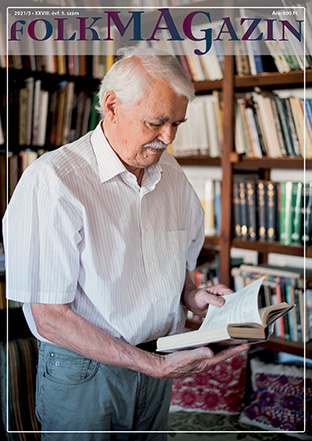 Issue:

2021/5

Starting page: 22
Author:

Halász Péter

=>
Basic ingredients, places and tools for preparing food used traditionally by Csángó Hungarians in Moldavia – Part 1. "In Moldavia, like in other traditional communities food served first of all to nourish the body – presentation and taste were [not necessarily priorities]". "…the WC attendant at the bus station in Bakó/Bacău (RO) – a man from the village of Lészped/Lespezi – was contentedly eating plums with bites of bread. I asked if that was his lunch. Yes, he said, I love it." Cooking was traditionally done in pots over small open fires in kitchen areas often seperate from the rest of the house. Many, many variations of wood burning stoves are known. Pots and cauldrons, frying pans, simple baking tins were the main cookware. A main staple food of the Moldavian Csángó people is corn meal (polenta, málé, mamaliga, puliszka); bread is a more recent addition to the diet. Mainly they ate vegetables and meats they produced themselves, purchasing only salt, yeast, rice, sugar, dried noodles for soup. An array of edible wild plants were collected seasonally. Religious fasting customs and practices for pig slaughtering are described. By Halász Péter.